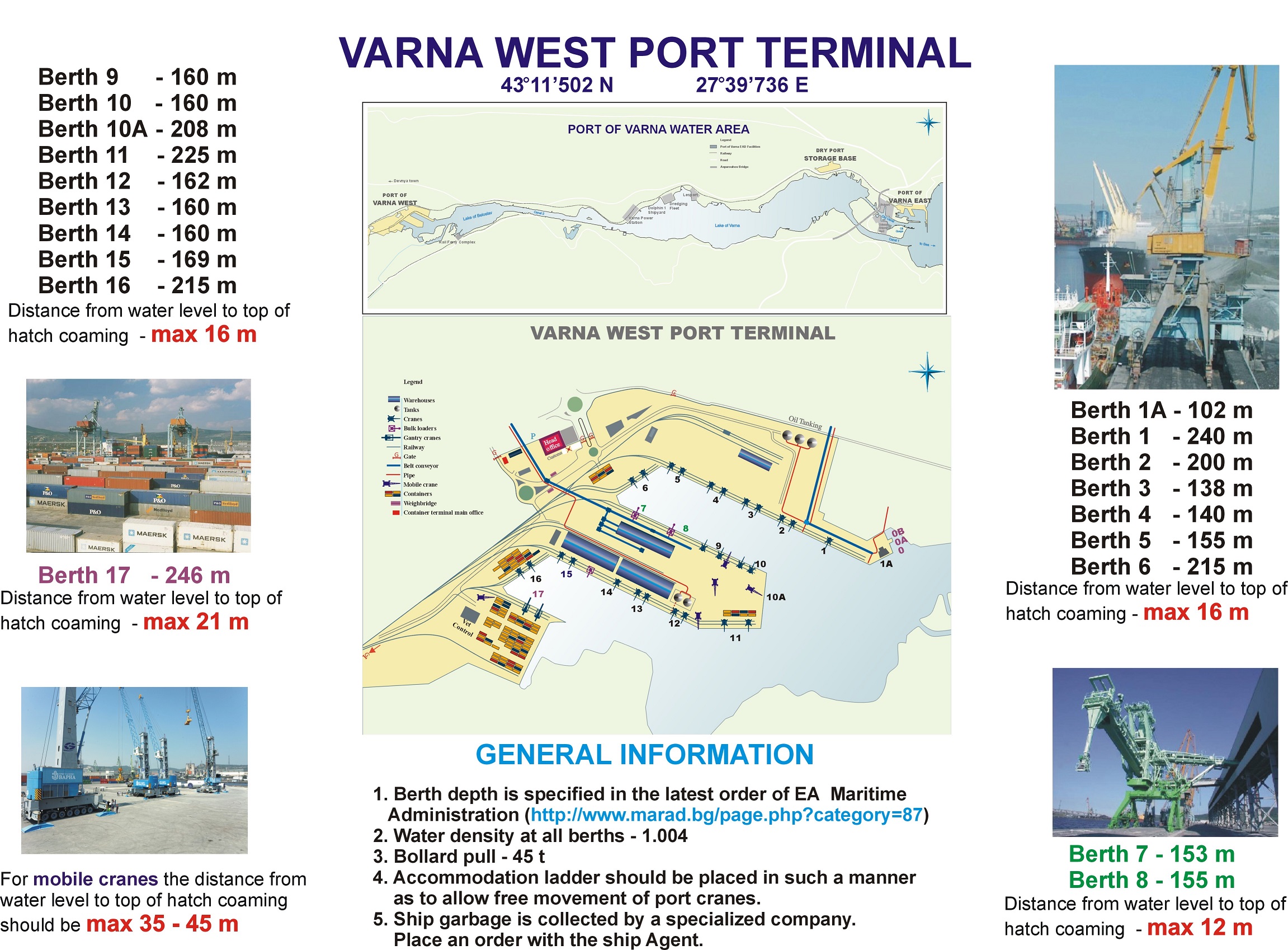 Varna West Port Terminal became operational in 1974, and 2 years later the deep-water channel linking the sea with the lake (Canal No.1) was successfully completed for navigation of deep-draft vessels to Varna West.
Initially, the concept for development of port facilities was to build an industrial port intended to serve the "valley of the great chemical industry."
Nowadays, the port of Varna West is the most modern facility on the north Bulgarian Black Sea coast with the best future prospects. It is situated about 30km west of Varna City, on the west shore of Beloslav Lake. Adjacent to the chemical factories of Devnya, the terminal enables effective ship-to factory direct handling of goods. The terminal has modern technologic lines for handling of containers, general cargo, soda ash, fertilisers, cement, coal, ores, phosphates, silica and liquid chemicals. All port berths and warehouses have access to the national rail and road networks.
In recent years, Varna West Port Terminal has proved itself as Bulgaria's container hub. In 2018, it handled more than 160 thousand TEU. There is a modern information (proprietary) system in place allowing for real time tracking of container's condition/location by the clients.
In accordance with the current Operational Suitability Certificate, Varna West Port Terminal is capable of handling non-hazardous general cargo (incl. containers), bulk cargo, liquid bulks, ro-ro and containers loaded with dangerous goods of most IMO classes (as per IMDG Code). Various marine and technical services are offered together with many port related activities.
Over the last years, the port terminal has been involved in grain exports as well. A substantial investment was made for this purpose, and the process continued to introduce an innovative system for loading grain into 20' containers.
Also, the terminal has multi-purpose berths available for handling of various types of cargo as necessary, depending on the specific operational situation. The terminal successfully handles heavy lifts and out-of-gauge traffic, such as wind turbine components, power transformers, line pipes, specific project cargo, etc.

The terminal has:
Quay cranes:
Mobile cranes: 2 units with capacity 144T; 2 units with capacity 100T; 2 units with capacity 63T

Portal jib cranes: 26 units with varied capacities up to 32T

Gantry cranes: 2 units with capacity 35T
Mobile equipment:
Reachstackers: 10 units with capacity 45T

Bucket loaders: 24

Forklift trucks: 31 units with varied capacities 3.5 to 28T

Terminal tractors: 17

Container semi-trailers: 24
Other specialised equipment: weighbridges, belt conveyors, quay shiploaders, etc.
Key technical and technologic features
Indicators

Unit

Varna West Port Terminal

Berths

number

22

19 operational for cargo ships

Max draft

Order No.B-3-33/24.3.2020,

Maritime Administration, Varna

m

11.20

Quay length

m

3430

Territory

m2

1,799,797

Open storage areas

m2

346,393

Warehouses

m2

37,806

Quay cranes

Portal

number

26

Gantry, 35T

number

2

Mobile, 144T

number

2

Mobile, 100T

number

2

Mobile, 63T

number

2

Mobile, 12T

number

1

Quay shiploaders

number

3

Belt conveyor-103

number

1

Mobile equipment

Bucket loaders

number

24

Forklift trucks

number

31

Reachstackers

number

10

Terminal tractors

number

17

Container semi-trailers

number

24

Other specialised equipment

Mobile belt conveyors

number

7