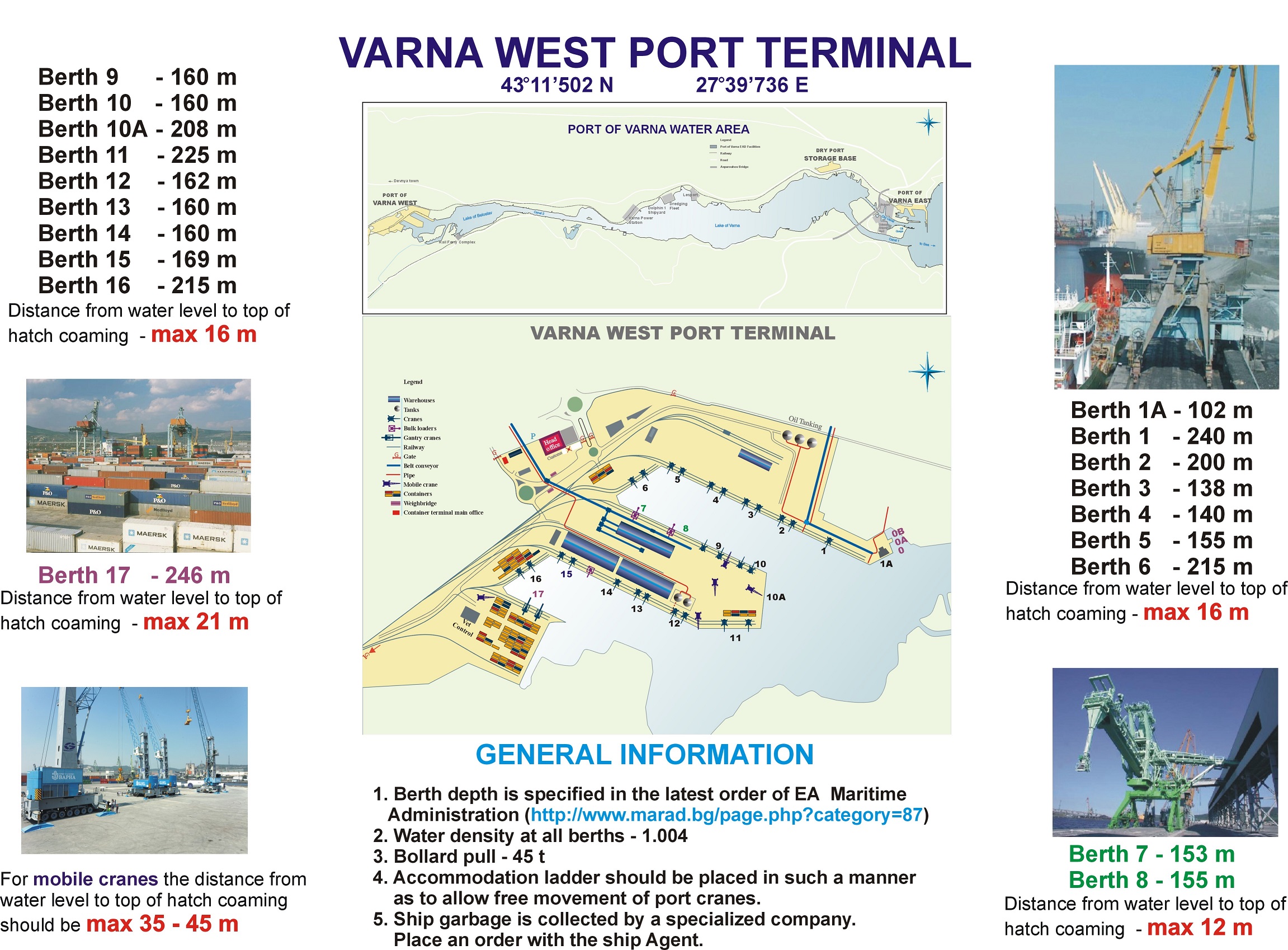 Varna West is the most modern port facility at the northern Black Sea coast of Bulgaria. It is located at 30 km west of Varna city, on the west shore of Beloslav Lake. It is adjacent to the chemical factories of Devnya which enables effective "factory-to-ship" direct handling of goods. The port has modern technologic lines for handling of soda, fertilizers, cement, coal, ores, phosphates, silica and liquid chemicals. All berths and warehouses have access to the national rail and road networks.
In recent years, port of Varna West has been recognized as Bulgaria's container gate. In 2013, the handled container traffic exceeded 103,000 TEU. A state-of-the-art information system has been developed and implemented by the port, so that the client can keep track of its containers at any time.
For some time now, the port has been exporting grain cargo. The port is in process of making major investments for this purpose.
There are also multi-purpose berths available for handling of various types of cargo in case of need. The port successfully handles heavy lifts and out-of-gauge, such us windmill components, transformer equipment, specific project cargo, etc.
The port has 2 mobile harbour cranes with capacity 100T and recently took delivery of other 2 units with capacity 63T, all produced by the prominent crane builder Gottwald.

Main Features of Varna West Port Terminal
Berths: 19
Max depth: 10.50 m
Total quay length: 3430 m
Open storage area: 346 397 m2
Warehouses: 20 998 m2
Equipment
Quay cranes: 25 with varied capacity up to 32T
Gantry cranes: 2 with capacity 35T
Mobile cranes: 2 with capacity 100T and 2 with capacity 63T
Reachstackers: 7 units of 45T
Rubber belt conveyors: 7
Mobile belt conveyors: 2 systems
Quay shiploaders for soda in bulk and fertilizers: 2
Loading system for sulphuric acid