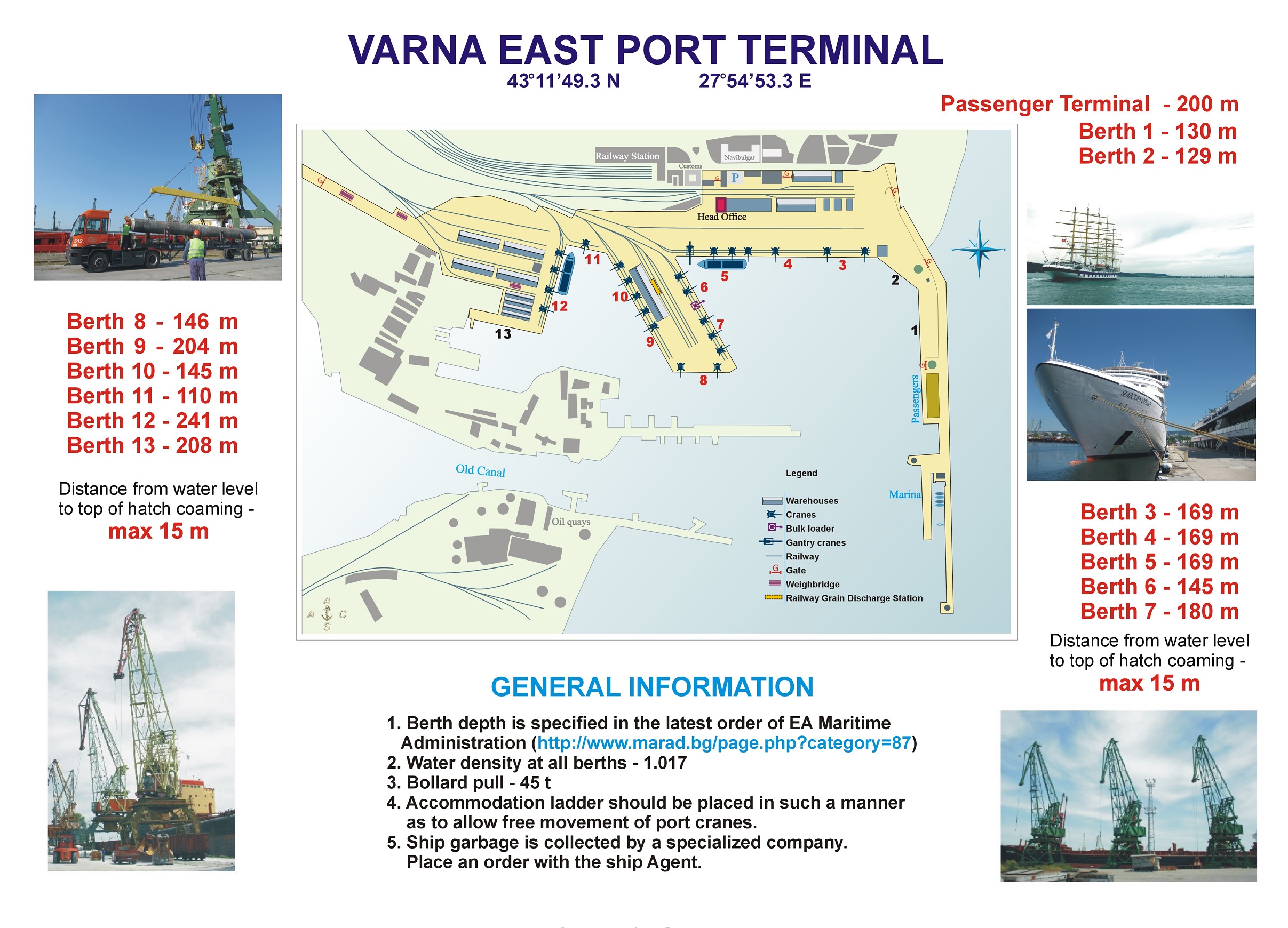 Varna East is situated deep into the Bay of Varna, at only 1 km distance from the city center. The head office of the company Port of Varna EAD is located on the territory of Varna East. The Customs Office, Railway Station, Maritime Administration and other authorities are at a walking distance. Also, the offices of the State Company Port Infrastructure and the Border Police are here, as well as the Transport Library. Port of Varna East has easy access to the national rail and road networks. The international Varna Airport is some 10 km away from the port.
Port of Varna East was inaugurated on 18th May 1906. Today, it operates successfully as a multi-purpose port terminal. It has 13 freight berths to handle various general and bulk cargoes and edible liquid bulks. In 2013, the total traffic at this port facility exceeded 4.1 million tons. The exported grain amounted to 3.6 million tons.
Storage Base
An integral part of Varna East structure is the Storage Base, also known as the Dry Port. It is a separate unit with a license for Customs bonded storage. Located at 5 km away from the port, on a total area of 15 decars, it has 6 warehouses which are used for storage of varied grain and general goods.

Main Features of Varna East Port Terminal
Berths: 14
Max depth: 11.50 m
Total quay length: 2345 m
Open storage area: 97600 m2 (including Storage Base)
Warehouses: 41,632 m2 (including Storage Base)
Equipment
Quay cranes: 24 with varied capacity up to 32T
Gantry crane: 1 with capacity 30.5T
Reachstackers: 2
Rail discharging station for grain
Quay shiploader for grain
Unloading facility for molasses