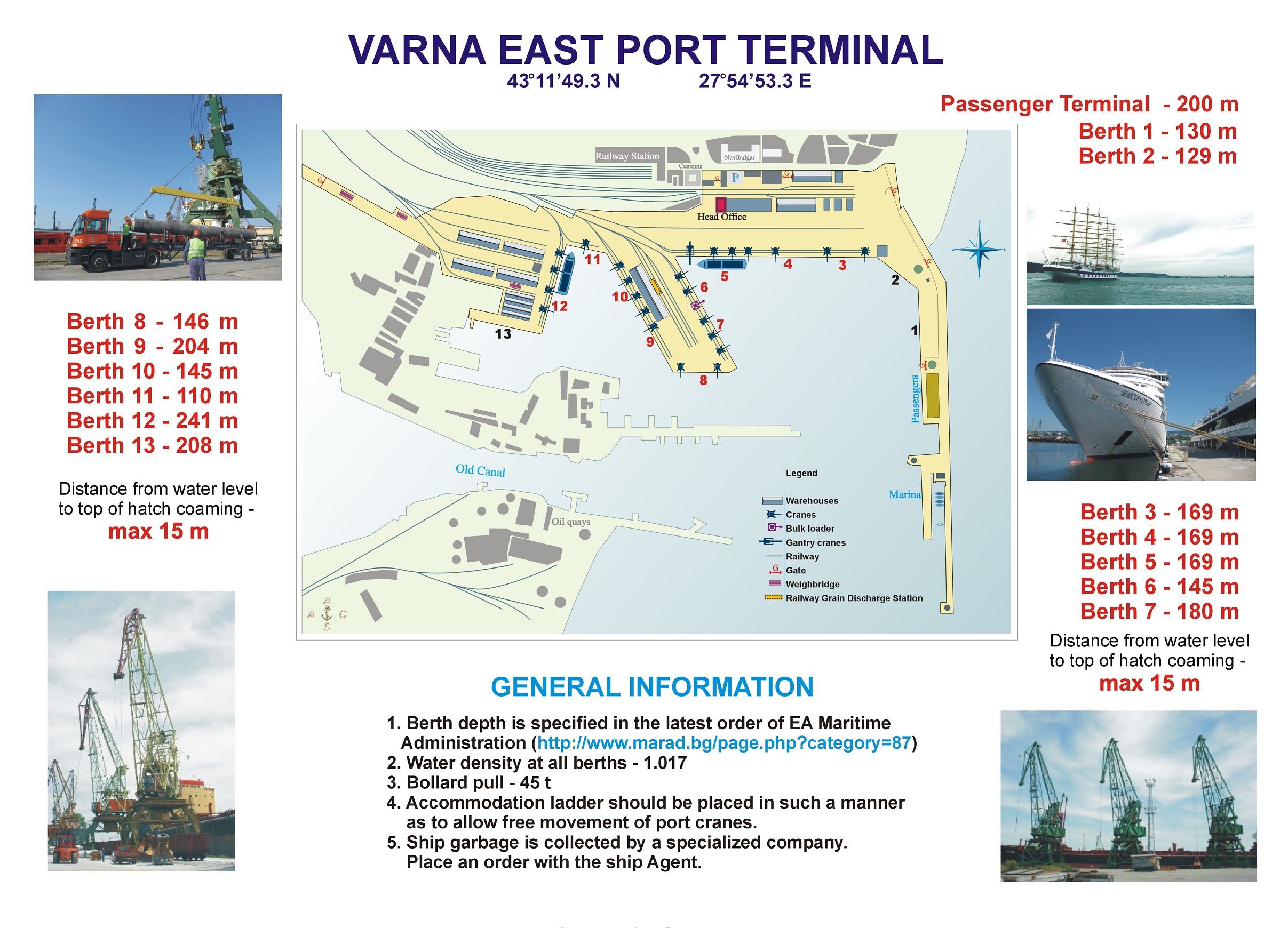 Varna East Port Terminal (Port of Varna) was officially opened on 18 May 1906. Today, it is a successfully functioning multi-purpose port terminal which is continually developing and improving. Varna East Port Terminal is situated in the Bay of Varna at the southeast end of Varna City, some 1 km of the downtown area. The head office of the trading company Port of Varna EAD is located and operating on the terminal's territory.
There are 14 berths, including one berth for servicing of passengers, passenger ships, cruise ships, pleasure boats and naval ships. The max depth is 11.50m, and the total quay length is 2345m.
The terminal makes use of various quay cranes: 22 portal cranes, 1 mobile crane, 1 gantry crane, 1 quay shiploader for grain, 1 unloading facility for molasses.
The mobile equipment includes 59 units, of which 12 bucket loaders, 9 forklift trucks, 1 reachstacker, 9 terminal tractors, 7 container semi-trailers, 7 self-dumping trailers, etc.
The total open storage space is 73.15 decares (including the Storage Base), and the total area of warehouses is 35.34 decares (including the Storage Base). Also, the terminal has a road-rail unloading station for grain which is linked to a warehouse.
The storage areas have access to the national railway network. The port road system is connected to the national road network via the port gates. The international Airport of Varna is about 10km away from the terminal.
In accordance with the Operational Suitability Certificate, Varna East Port Terminal can handle general cargo, bulk cargo, liquid bulks, edible liquids, ro-ro, containers and passengers. A variety of marine technical services and operations are offered as well.
The record year for cargo traffic at Varna East was 2013, when the terminal handled over 4.1 million tons of cargo, with only the grain exports accounting for 3.6 million tons.
Investments have been made to improve port infrastructure and facilities and to modernise the handling technology for grain and cereals, so that Varna East can maintain its image of Bulgaria's grain hub.
In recent years, the eastern area of the terminal has been opened for the public.
Storage Base
Located some 5 km of Varna East Port Terminal is the Storage Base (also known as the Dry Port) – a separate unit which is licensed for customs bonded warehousing, operating on a total area of 85 decares. There are 6 warehouses with total storage area of 15 decares, used for various types of general cargo and grain. The open storage space is about 16 decares available for general cargo.

The terminal has:
Quay cranes:
Portal jib cranes: 22 units with capacity up to 32T

Mobile crane: 1 unit with capacity 84T

Gantry crane: 1 unit with capacity 30.5T

Quay shiploader for grain: 1

Unloading facility for molasses in bulk: 1
Mobile equipment:
Other specialised equipment:
Key technical and technologic features
Indicators

Unit

Varna East

Berths

number

13 for cargo ships

1 for passengers

Max draft

Order No.B-3-33/24.3.2020,

Maritime Administration, Varna

m

11.50

Quay length

m

2345

Territory (incl. Storage Base)

m2

429,813

Open storage areas (incl. Storage Base)

m2

73,154

Warehouses (incl. Storage Base)

m2

35,340.39

Quay cranes

Portal

number

22

Gantry, 30.5T

number

1

Mobile, 84T

number

1

Quay shiploader

number

1

Unloading facility for molasses in bulk

number

1

Mobile equipment

Bucket loaders

number

12

Forklift trucks

number

9

Reachstacker

number

1

Self-dumping trailers

number

7

Terminal tractors

number

9

Container semi-trailers

number

7

Other specialised equipment

Road-rail unloading station

number

1