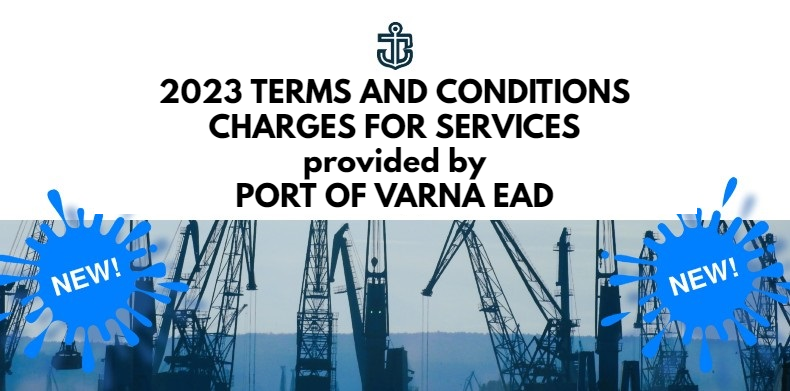 TERMS AND CONDITIONS CHARGES FOR SERVICES - Jan. 1, 2023
The qualified and experienced staff and adequate technical equipment ensure that Port of Varna provides a wide range of quality services to its customers at reasonable price.
The Port provides port services on a 24-hour basis, 7 days a week, excluding the public holidays and the lawfully established daily breaks.
---
The main services provided by the company are:
stevedoring services,
cargo storage and port forwarding service.
Port of Varna EAD offers also a package of additional services as:
cargo shifting (re-stowing)
weighing
sorting
lashing/unlashing
palletizing
trimming
washing
painting
opening/closing of hatch covers
fumigation of rail cars and applying of defrosting material
other
*Weighing of trucks with bulk cargo is carried out by means of precise electronic weigh-bridges (up to 90 tons) located at the port gates.
Customers can get also other supplementary services within the port area:
fresh water
installation of telephone post onboard
power supply
collecting and treatment of waste
hiring of port equipment (mobile cranes, trucks, bucket loaders, etc.) .
Further information about all types of services offered at Port of Varna can be found in the above link CONDITIONS AND PRICES OF SERVICES OF PORT VARNA EAD.
Head of Marketing Department,
tel. +359 52 69 2521
email: marketing@port-varna.bg
Specialists:
tel. +359 52/ 69 2293, 69 2582
email: svetla.bogdanova@port-varna.bg ;
---
Services provided by other companies operating in the area of Port of Varna:
Pilot Station – P Ltd., Varna
Tel.: +359 52 602445, Fax: +359 52 602445
Port Fleet 99 Ltd.
Tel.: +359 52 692286, Fax: +359 52 649 587
Navibulgar EAD
Tel.: +359 52 633200, Fax: +359 52 600325; +359 52 602885
Varna Towage Company Ltd.
Tel.: +359 52 692134, Fax: +359 52 692136
Information about agents and freight forwarders
Bulgarian Association of Ship Brokers and Agents (BASBA)
Tel.: +359 52 603674, Fax: +359 52 603675
Information about freight forwarders
National Union of Bulgarian Freight Forwarders
Tel.: +359 2 46 1214
Regional Directorate of Customs Administration
Tel.: +359 52 632601; +359 52 632602